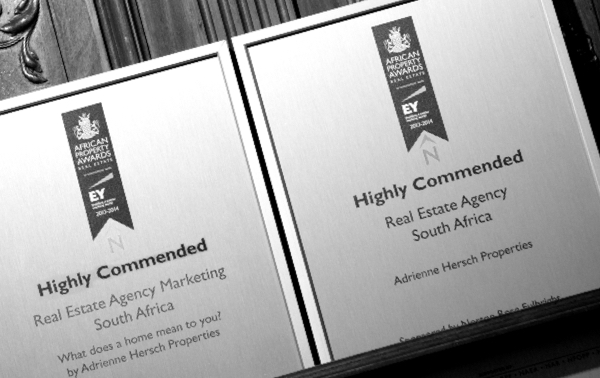 2008 - Adrienne Hersch received the Nedbank Movers and Shakers Award in recognition of her outstanding service to the Real Estate Industry. Four years later, she was nominated as a finalist in the prestigious ABSA Business Achiever Awards in recognition of her significant achievements.

2012 - Adrienne Hersch Properties was the first real estate agency to break the R100 million mark for the sale of a residential property in Johannesburg.

2013 - The Company was awarded the sole mandate for Africa and Australia to market the exclusive and the iconic 42-storey Meier-on-Rothschild Tower in Tel Aviv, Israel. Developed by the world renowned Berggruen Group and designed by Pritzker Prize- Winning international architect Richard Meier

2013 - Widely acknowledged and awarded for marketing excellence over the years, the company received, two awards, "Highly Commended Real Estate Agency South Africa" & "Highly Commended Real Estate Marketing South Africa" at the prestigious International Property Awards in Dubai.

2014 - The Company unveiled its new corporate 2014 image at its annual Pillar Awards event. "When one renovates their home it is not to change the foundation, but to modernize the aesthetic. And that is exactly what we did" says Adrienne. The 'renovation' of the brand has been central to the success of the expansion exercise and opening up new opportunities for growth and allowing the company to focus its attention on what is required to go national and do so successfully. Part of the renovation of the brand was the launch of the Adrienne Hersch Properties fleet. Consisting of Hyundai i20's and i30's, our fleet has provided a great platform for generating Brand exposure as we expand into territories unknown.

2016 - With the view to creating a national and, ultimately, international footprint for the Adrienne Hersch Properties brand, the company launched its very distinctive franchise model aimed at establishing a network of like-minded property entrepreneurs as franchise partners, who share our dream of growing the Adrienne Hersch Brand.

2016 - With a constant eye on innovation and an open mind to technological development, 2016 will see the launch of the Company's exclusive intranet network. Called the Hersch Operating Management Experience, the HOME network will be the pinnacle of intranet systems, making use of the most technologically advanced and streamlined tools available today. Soon to become the heart and soul of our organization, HOME will provide both staff and Consultants alike with a single starting point to access all of the company's internal and external resources, manage their customer relationships, communicate with each other and effectively and efficiently achieve results.